11 juillet 2010
7
11
/

07
/

juillet
/

2010
16:19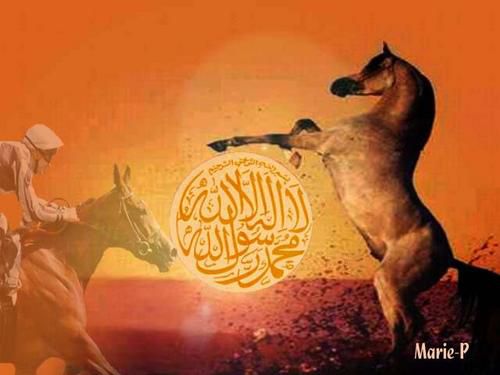 JEDDAH – Seven years ago Sumaya Al-Thaqafi and her husband were cruising in their car on the eastern Ring Road in Jeddah when they passed one of several ranches in the area.
Seeing horses being taken out for a trot, she asked her husband to stop.
Sumaya wanted to try the horse riding.
Women are not allowed to drive cars in Saudi Arabia, but horseback riding is acceptable.
"I just wanted such a unique experience," Sumaya said about the 10-minute horseback ride that changed her life.
"A Saudi equestrian coach helped me get on to the horse. Then, grabbing the bridle, he started escorting me around the ranch paddock. I was scared."
But 10 minutes later, Sumaya had made up her mind.
"I decided to take a course on horse riding."
Today, Sumaya is one of a few Saudi women who have taken to equestrianism, a recreational sport that, in competition, involves such intensely contested events as dressage and show jumping where poise and polish matter as much as control.
More Saudi women are expected to take to the sport after Arwa Mutabagani, an accomplished Saudi equestrienne, became the first woman to be named to the board of the Saudi Arabian Equestrian Federation last April.
For Sumaya, in her mid-twenties and a mother of two, horseback riding was a welcome distraction from her full-time job as a journalist with a local daily. After getting a diploma in Journalism from The London School of Journalism (LSJ), she had started out as a columnist with Al-Madina Arabic daily in 2004 and soon moved to reporting to specialize in sports, especially horse riding.
Learning how to ride a horse was not easy, Sumaya said. She spent a month just learning how to use the horse tacks – the saddles, stirrups, bridles, halters, reins, bits, harnesses, martingales, and breastplates – and to get on the saddle using the stirrups.
Then followed practice on how to sit firmly on the saddle. The second training phase, which lasted around six months, was about the four basic gaits for a rider.
"I started to practice riding the horse with a four-beat walk ride," she said. "The next level was two-beat trotting. Then came cantering with a three-beat gait. The fourth and most professional gait was galloping at a speed averaging from 40 to 50 kilometer per hour."

Peculiar problem
But before all that Sumaya had to solve a peculiar problem of the rider's apparel. On the advice of Humayed, her equestrian coach, she had spent around SR1000 for a show jacket, shirt, breeches and helmet. "I went for the Indian brand because I could not afford the English ones at that time," she said.
But then she tried out the tight breeches, she found it quite unbecoming of her.
"I had no problem wearing the rest of the apparel but I didn't want to be seen in the very tight breeches, especially in front of men," she said. "I tired to wear an Abaya over the breeches but unfortunately it didn't work."
Sumaya was in a quandary. She loved horseback riding but did not want to ride in tight breeches. "Luckily, one day while I was in the car I saw an Indian man on a bike and he was wearing the Punjabi garment (the shalwar-kameez).
I noticed that his kameez covered most of the legs as he rode, and I decided then and there that that was the garment for me, to cover my legs and which didn't affect my Islamic Hejab." Freed from her discomfort over the breeches, Sumaya was now on a gallop and aiming to achieve more. She enrolled for the show jumping courses, which included dressage, eventing, hunters and equitation.
"This was the scariest stage," she said. "I was afraid of falling while jumping over the obstacles.
Humayed tried to convince me that falling was inevitable and that most riders – beginners or advanced – were vulnerable to falls."
She said she braced herself for the worst but after her first fall, her fear vanished. "The falls helped because they motivated more and made me gutsy enough to perform more difficult jumps."
Sumaya started out without a horse of her own and eventually managed to buy one.
"It was such a disappointment," she said."I bought a horse without consulting the experts and so compromised on quality just for a good price. He was of a hybrid breed called Khadeej."
The price of a good breed, she said, starts at around SR50,000 or to 60,000, and the better breeds are of Belgium or German origin. "Unfortunately, most of the breeds available here do not have certificates showing their origin."
Sumaya said equestrianism is still a very exclusive sport in the country and it was too early to think of special events for women riders.
There are very private tournaments organized in Riyadh and Jeddah by Kingdom Holding Company of Prince Al-Waleed Bin Talal, Sumaya said. The few female Saudi riders who take part in such events are Alya Al-Khuwaiter, Sara Babani and Lateefa Al-El Sheikh.
Nonetheless, Saudi male and female riders, including the Olympic riders Abdullah Al-Sharbatly and Khalid Al-Dosary do take part in events recognized by the Federation Equestre International (FEI), which take place annually in some Arab countries like Syria and Bahrain, she said. These three-day tournaments are usually for show jumping and endurance riding.
"The show jumping consists of 11 assorted obstacles with different heights starting from 80 cm and going up to 140 cm," Sumaya said, her eyes lighting up at the thought of the challenge.
There must be competitions like these for women riders in Saudi Arabia, she wished.
source: http://www.saudigazette.com.sa/index.cfm?method=home.regcon&contentID=2008072312499